Precious skins
Thanks to his expertise in precious skins, such as Python and wild Mississippiensis Alligator, Joakin has acquired a real know-how around these leathers. 
Our precious skins are carefully selected one by one, according to the strict rules of CITES certification (Convention on International Trade in Endangered Species). Its aim is to ensure that international trade in specimens of wild animals and plants does not threaten their survival.
(To learn more about the Convention on International Trade in Endangered Species of Wild Fauna and Flora, click here)
The founder masters the art of jigging and cutting, to create exceptional pieces.
All our skins are from wild animals, which keeps all the roughness of the skin; scratches, small scars or natural wrinkles, and make a exclusive and craft product.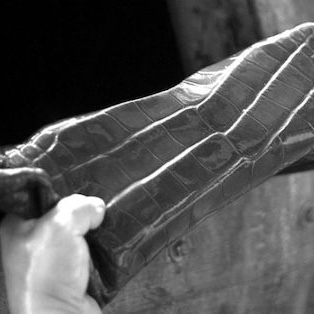 The Mississippiensis Alligator 
The Mississippiensis Alligator, native from the southern United States, is characterized by large scales, in a rectangular shape, on the central part of the animal, and small round scales on the flanks.
Very prestigious, this leather is the most used today, in leather goods.
The Python
Python leather is characterized by small smooth scales, with different sizes, which flatten out to wear. The textures and scales are absolutely unique. Each skin has its own scale pattern, making it a rare piece. 
Fragile appearance, this skin is actually very flexible and resistant.