ORDER OUR NEW HALF-LINED HEGOA BASQU'ETS NOW
Eco-friendly sneakers with casual chic!
What does HEGOA means?
___________________________________
In Basque, HEGOA means "South", and for this new season, we have resumed our collaboration with a podiatrist to modify, design and manufacture our new half-lined sneakers, more eco-friendly, and even more comfortable.
Sobriety, quality and elegance are the core values of these half-lined sneakers, intended for the most passionate men as for men seeking simplicity  and robustness.
HEGOA sneakers are made from durable materials:
Recycled rubber, for the outer solde sneakers. 
Eco-friendly cotton, for les lacets. 
Vegetable leather, for the lining and  the insole, with shape memory.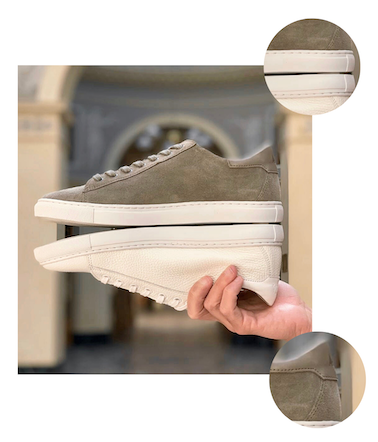 A unique and durable sole
A sewn sole,  made from recycled rubber, to reduce waste and use of fossil origin. Thicker, it provides better ankle support and greater foot support.

A new design
A rear buttress and a tone-on-tone tongue, for more elegance and discretion.
The shape memory midsole is in vegetable leather (without chrome). For all those who have orthopedic insoles, we have thought of you with our removable sole. So, you can remove the AïZEA soles to slip yours!
The unique and resistant outsole, made from recycled rubber. This is glued and then sewn sideways to the footwear, for much more solidity and longevity.
The interior lining is also in white vegetable leather (without chrome).
The lace pass allows the tongue not to go to the side. Indispensable for better support.
Our logo is hot stamped tone on tone, discreetly, on the back and on the tongue. 
Sneakers Made in Portugal
Our sneakers are made near Porto, in the heart of the traditional shoe manufacturing region of Portugal, in a family and artisan workshop. We chose this family, whose values and product requirements are identical to those of AïZEA. It's important for us to produce in Europe, in fair and responsible working conditions.
Our Taurillon leather is French, and comes from a historic tannery in the Basque Country. The objective is to ensure that our raw materials that are used have the least possible impact on the environment.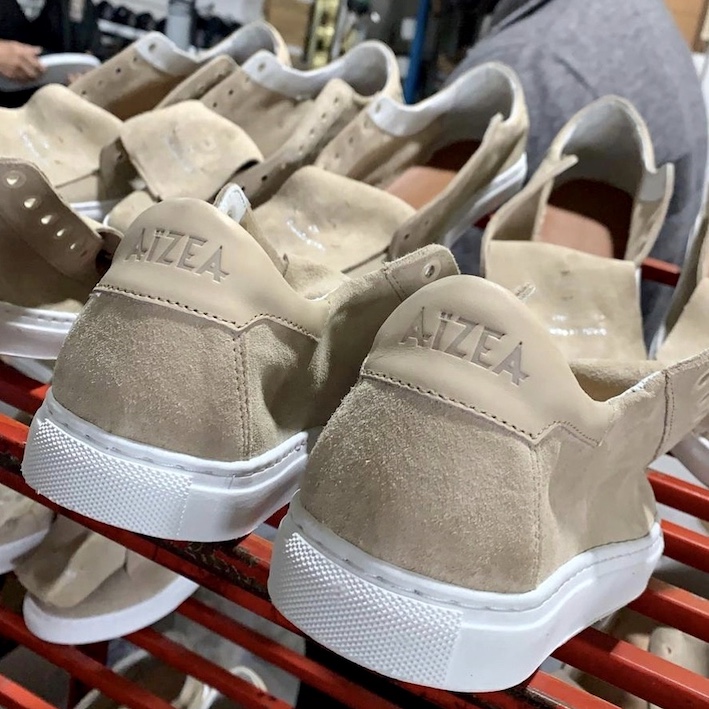 For this new season, discover our new colors
___________________________________
Suede Leather: Khaki, Grey, Beige and Navy Blue.
119€ instead of 139€ until July 31.
Taurillon Leather: White, Loutre, Black and Navy Blue.
129€ instead of 149€ until July 31.
Delivery:
All our packages are prepared according to very strict hygiene rules.

I ORDER

MILESKER! THANKS! Take care of yourself, and your beloved ones!
#STAYSAFE
Join us on Instagram
@aizea_official